SEK Serie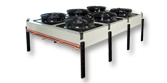 Technical Documents
Options
> Two refrigerant circuit,
> Different casing color,
> Three phase 400V 3~ 50Hz fans,
> Please keep in touch with our sales department about your special needs that are not mentioned in the catalogue,


Accessories
> Repair Switch.

SEK Serie
Industrial Condensers
Evaporator Coil
> Copper tubes Ø3/8", Ø1/2",
> Fins made of aluminum,
> Fin spacing is 2,1-2,5 mm,
> Header inlets and outlets tubes connections made of copper,
> Admissible pressure Ps = 32 Bar.

Casing
> Galvanized steel sheet painted to RAL 7032 (pebble gray),
> Horizontal or vertical type production.

Fans
> Low axial fans with maintenance free motor,
> Protection class IP44/54, single phase 230V 1~ 50Hz, three phase 400V 3~ 50Hz.
> Constructions insulation material class F/B, admissible temperature -40°C up to +60/+65°C,
> Maximum start up recommended for motors is 6 per hour,
> The axial condensers are designed for outdoor operation with no external pressure drops being considered,
> n case of long periods of non operation the motors must be operated every month for 2 hours,
> The integral thermo contacts (thermistors) must be used as motor protection.

Capacity
> The nominal capacities calculated according to Eurovent (EN327) standards that refer to a condensation         temperature Tc=40°C at an air inlet temperature Tai=25°C, temperature difference Δt=15K, height above sea level     NN and are valid for R404A.
> Capacities are calculated for difference noise levels.